Welcome to SaWadDee Thai-Sushi Restaurant and a culinary experience we take great pride in providing for you. Decorated in blues and browns with Thai and Japanese accessories, Sawaddee blends an extensive menu of Thai dishes with a complete sushi bar. Sawaddee's signature entrees are its Pad Thai and Panang Curry. The name "SA-WAD-DEE" is a traditional Thai greeting meaning "hello".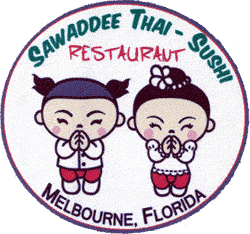 The cuisine offered by SaWadDee Thai draws inspiration from the rich and vibrant history & culture of Thailand. The word Thai means free, Thailand has never been colonized. Thailand's history involvs the mixture of different cultures, each bringing their own set of traditions, beliefs, and food.

At SaWadDee, you will be transported into a relaxing subtropical setting, with exquisite artwork and decorations directly from Thailand. The chef draws upon his country's heritage to provide a unique and delicious taste for our customers.

We have a large variety of delicious Thai and Japanese dishes, our menu caters to a wide range of tastes...from mild to very spicy.

We prepare your meal right after your order is placed. Our dishes are stir-fried, baked, boiled or grilled and contain fresh vegetables and aromatic herbs. In keeping with the practice of providing our customers with the tastiest and healthiest food, we use natural spices and NO MSG.

We hope you will enjoy dining with us. Let us know if there is something we can do to enhance your experience.


Business Hours
Lunch
Mon-Fri 11:00am - 2:30pm

Dinner
Mon-Thu 4:00pm - 9:00pm

Fri-Sat 4:00pm - 10:00pm

Sun Closed



(321) 727 8388
3142 West New Haven, West Melbourne, Florida 32904